This is the science page for the new - > itHRVe.com < Ultimate Heart Coherence HRV Biofeedback app for IOS- More from our programmer: www.craniosacral-app.com
NEW! July 2020 - see the new very active 500 member / users itHRVe Facebook blog
New 2020 - our FULL 2 Channel EKG Heart Coherence - Empathy / Tantra Trainer- www.realheartcoherence.com
Jan 2017: itHRVe films series - Real Heart Coherence and Stress Measurement/ Stress Solutions: www.hrv-app.com/realheartcoherence
Here is itHRVe on the app store: itunes.apple.com/us/app/ithrve/id1116818241?mt=8
Also see-: the companion app / extension for fractal implosion BRAINWAVE BIOFEEDBACK for IOS - "Flame in Mind": www.flameinmind.com
itHRVe- New Instructional Films:
itHRVe - Introduction / Purpose
From the - itHRVe.com - team ( companion site- craniosacral-app.com ) : Dan Winter , Patrick Botte, Jan Cisek
New Feb 2016: Breakthru for Psychokinesis/Plasma Projection Breakthru BRAINWAVE EMPOWERMENT -
IOS EEG - BIOFEEDBACK APP- Companion Product: www.FlameinMind.com
How 'Harmonic INCLUSIVENESS'-Defines Heart Fractality AND Immune Health! fractalityindex.html
Original app/IOS HRV and Empathy measure- from Dan Winter: heartsring.com
Dan Winter's original HeartTuner- EKG Coherence Measure & Empathy Trainer: www.goldenmean.info/hearttunerspecial
Story of Dan Winter's original discovery: How Heart Coherence is Measured: The Mathematics- www.fractalfield.com/coherence and www.goldenmean.info/coherence
Note: Dan's original discovery credited in the literature for inventing the term Heart Coherence-
was the use of the SECOND Order FFT called CEPSTRUM - to measure internal cardiac phase coherence (above link)
with the itHRVe app- that has been expanded to use a THIRD Order FFT
- providing an even smoother measure of HRV/Heart Internal Coherence-ideal for Breath Training.

Dan Winter's original new book: Fractal Space Time-Origin of Biologic Negentropy - www.fractalfield.com/fractalspacetime
Related Article: Fractal Phase Conjugate Origin of Perception (includes charts below) - www.fractalfield.com/conjugateperception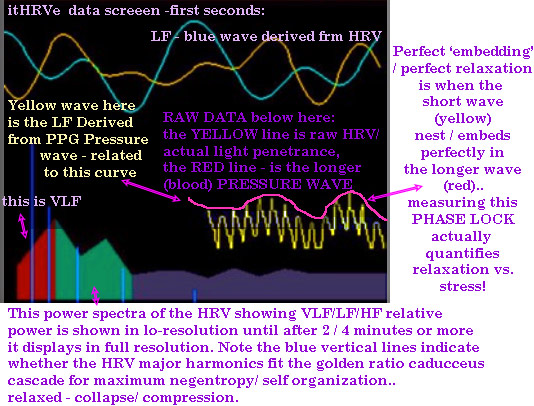 By calculating the HRV - LF lo frequency harmonics separately using just the pure HRV peaks- more locked to the EKG, separately versus using the wave shape harmonics of the LONGER BLOOD PRESSURE WAVE- we determine whether your body is RELAXED - IN PHASE- with itself... That is to say - phase synchrony- literally INNER HARMONIC between your bodies- electrical ringing- versus it's sonic / liquid longer wave natural resonance!